Wildlife Safari Tours and Things to Do in Uganda, Rwanda.
Game Drives in Uganda & Rwanda, Wildlife Safari Adventure Tours.
Game drives are such an exceptional activity for one to carry out due to the fact that one will have the opportunity to spot various wildlife animals around the parks. These are carried out in Uganda at Murchison Falls National Park and are very exceptional to all travelers interested in watching the various Wildlife animals wandering around the various tracks in the park.
The Wildlife animals you will spot include; Elephants, Giraffes, Water bucks, Topis, kobs, wart hogs, hyenas, lions, leopards, Hippos, Buffalo, small antelope, bush bucks, etc.
These are the most prominent Safari Activity carried out in majority of the National Parks in Uganda i.e Murchison Falls National Park, Lake Mburo National Park, Queen Elizabeth National Park, Kidepo National Park, Semliki National Park, Mountain Rwenzori National Park, Mountain Elgon National Park due to the number of travelers that transfer to Uganda to experience remarkable Wildlife Safari Tours in Uganda.
Other than in Uganda, travelers can enjoy Wildlife Safari Tours in Rwanda at Akagera National Park where you will enjoy watching other various Wildlife Tours.
Boat Cruises in Uganda & Rwanda, Safari Adventure Tours 
Boat cruises are done on in both Uganda and Rwanda. In Uganda, these are done at Murchison Falls National Park along the stunning Victoria Nile on which you will see numerous Hippos, Crocodiles and birds, Queen Elizabeth National Park and Lake Mburo National park along the eastern shores of the magnificent Lake Mburo.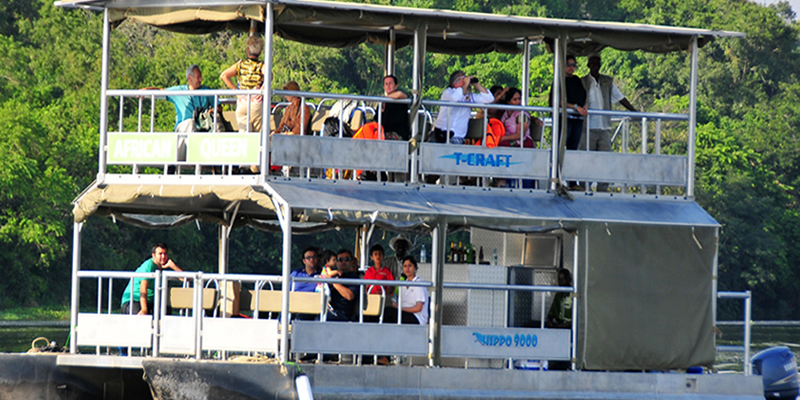 In Rwanda, these can be carried out at Akagera National Park along Lake Ihema on which you will spot a variety of wildlife like crocodiles, hippos, elephants, buffalo, vivid kingfishers like the prehistoric-looking Shoebill, hammer kops, splendid fish Eagles, water birds like the shoebill stork, heron, malachite kingfisher, papyrus gonolek etc.
The cruises usually take about 2 hours and while carrying out this activity, you will have a chance to spot the beautiful terrain covered with thick green vegetation that inhabits many wildlife species as well as birds.
Canopy Walks in Nyungwe Forest National Park-Rwanda Safari Tours
Taking on a Canopy walk at Nyungwe Forest National Park is such an exceptional experience for one to take on since this involves moving over the gigantic forest vegetation about 50 meters in the air. The walk way is about 200 meters long across a vertical valley covered with misty thick vegetation.
While at the top you will have the opportunity to spot the largest beautiful montane forest vegetation in East Africa and various wildlife animals inhabiting the canopies. This activity takes 2 hours and the starting/ ending point is at the park's headquarters at the Uwinka tourist reception center.
You can also view the ground level nature and some of the wildlife animals you will spot include the L'Hoest's Monkeys, Black-and-white Colobus, Red-tailed Monkeys, Blue Monkeys and various birds.