Uganda Chimpanzee Trekking & Habituation Experience 2023-2024
Uganda Chimpanzee Trekking & Habituation Experience are exciting as you trek & habituate the Chimpanzees in Kibale Forest National Park, Ngamba Island. Uganda Chimpanzee Trekking & Habituation Experience offers is very exciting to do in Uganda.
Chimpanzee Tracking involves movement from one place to another in thick forest vegetation in search of these primates. Only 6 people in a group and children of 7 and above years old are authorized to track these primates.
You will transfer with your valid Chimpanzee Tracking Permits which cost US $200 per person in Kibale Forest National Park, US $100 per person in Nyungwe Forest National Park. When tracking, one should follow the rules below;
Don't eat while close to the chimpanzees

Keep a distance of 8 m from the chimps

Children should be 12 years and above to spot and enter the park

Move in company of a guide throughout the whole process

If you are ill or sick please don't get into contact with the primates

Don't provoke the primates while in the park

Flash photography is not allowed in the park.
Chimpanzee Habituation Experience 
Visit Uganda to experience remarkable encounters with the chimpanzees through interacting with them one on one since they are trained and nurtured to be friendly with humans. While on this tour, one can spot these primates de nesting in their nests at night around 5:30-6:30.
This experience takes place during the low season in the months of April, March, May and November. Only 6 individuals are authorized to engage in this activity.
This takes place in Kibale Forest National park and it takes the group only an hour to interact with these primates which are usually playing and jumping from one tree to another.
There are various places in Uganda where this takes place for example Kyambura gorge in Queen Elizabeth National Park, Budongo Forest at Kaniyo Pabidi and Busingiro eco sites, Kalinzu Forest, Ngamba Island as well as Nyungwe Forest  National Park in Rwanda and Tongo Forest in the Democratic Republic of Congo.
Chimpanzee habituation in Kyambura Gorge
Kyambura Gorge also referred to as the valley of apes is a very beautiful destination situated in the far eastern part of Queen Elizabeth National Park found in the in south west of Uganda.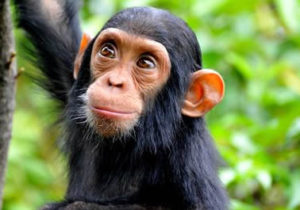 The gorge is filled by the tremendous Kyambura river hence a spot and habitat to many wildlife species especially primates like the chimpanzees, black & white Colobus monkeys, red tailed monkeys, giant forest hogs due to its reliable water source etc.
It is enfolded by Savannah. While in the gorge, you will interact and spot chimpanzees that are habituated for approximately 2 years and this experience will leave you wanting more adventure due to the familiarity encounters you will have with them.
Budongo Forest (Kaniyo Pabidi & Busingiro Eco site)
The Budongo Forest reserve is situated in Murchison Falls National Park about 793 sq kms with 53% of it being a forest and the rest grassland.
The forest has a high biodiversity of 24 different species of candid animals including 9 primates, 465 tree species and shrubs, 359 bird species, 289 species of butterflies and 130 species of moths. The most prominent things to spot here are the chimpanzees' i.e 600-700 and mahogany trees.
Two sites have been established for chimpanzee habituation and tracking and these include the Kaniyo Pabidi and Busingiro Eco Tourism sites.
In Kaniyo Pabidi site are six habituated groups the one will be able to spot in the months of May, June, July and August where as in the Busingiro Eco-Tourism Site,  chimpanzee tracking is carried out constantly along the grid trail on which a 200m-grid system enhances faster accessibility through the forest.
The entire process of chimpanzee tracking starts in the mornings around 7:00 am and these can be spotted very well at a 90% assurance in the months of July, August and September depending on the constantly changing fruiting seasons of the forest trees that determine the primates' constant relocations.
Kalinzu Forest
Kalinzu Forest is strategically situated close to Queen Elizabeth National Park and inhabits six different species of primates like the blue monkeys, vervet monkeys, black and white Colobus monkeys, chimpanzee approximately 220 with 70 of them habituated for tracking.
While preparing to go to the forest one is advised to move with packed lunch so as not to get any inconveniences while interacting with the chimpanzees in their habitat. While in the forest, you will also have a chance to spot other wildlife animals like the wild pigs, antelopes, leopards etc.
Ngamba Island
Ngamba Island is a habitat to the chimpanzee and is enfolded by the magnificent fresh waters of the massive Lake Victoria. The Island includes 49 orphaned chimpanzees that were rescued around Uganda from being poached for bush meat and pet trade offering both day and night trips to visitors so as to spot the Chimpanzees and have a very exceptional encounter with these primates.
The Island is also part of the Koome group of Islands that are found in Lake Victoria i.e Islands like Kiimi, Nsazi, Koome, Bulago and Damba.  The prior objective of the foundation of the sanctuary is to provide a safe haven for the orphaned and homeless chimpanzees as well as protect the environment on Ngamba Island Chimpanzee sanctuary.
Tracking kit
Bring enough drinking/ bottle water and snacks to eat.

Bring a rain jacket for sometimes it rains unexpectedly.

Wear warm socks and light weight shoes that will help you travel over the steep muddy slopes as well as rugged terrain.

Carry with you some binoculars.

Bring a camera that has no flashlights.