Primate Safari Adventures in Africa, Gorilla & Chimpanzee Tracking Tours
We offer tailor made safaris for all travelers so as to suit all kinds of encounters that they request for while on holiday vacation in Africa.
We do these so that the visitors get to enjoy remarkable primate safari holiday adventures while in Uganda, Rwanda and the DR Congo.
Gorilla Trekking, Golden Monkey Tracking in Uganda, Rwanda & Congo
Visit the pearl of Africa-Uganda as well as the country of rolling hills- Rwanda and the vast DR Green country of the Democratic Republic of Congo to experience Africa's primates to the fullest like the endangered species of Mountain Gorillas, Chimpanzees, monkeys and other nocturnal primates that can be tracked Africa's thick tropical and montane Forests.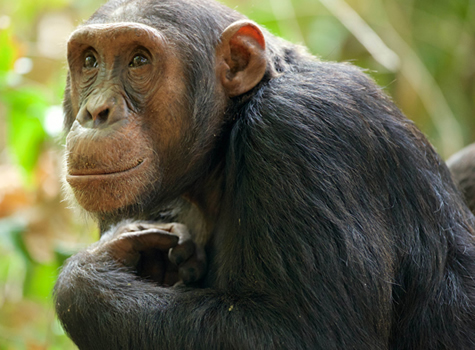 For example, in Uganda the Gorillas are tracked in the thick impenetrable forest of Bwindi Forest National Park and Mgahinga National Park.
In Rwanda, the Mountain Gorillas are tracked in the prominent Volcanoes National Park and in the DR Congo, these are tracked in Virunga National Park with Eastern Lowland Gorillas in Kahuzi Biege National Park.
Chimpanzee Tracking in Uganda & Rwanda
Other than the Mountain & Eastern Lowland Gorilla Trekking, you can go Chimpanzee tracking in Rwanda at Nyungwe Forest  National park, Uganda at Kibale Forest National Park, Ngamba Island, Kyambura Gorge, Kaniyo Pabidi Eco Tourism Site-Budongo Forest and Kalinzu Forest.
Gorilla & Chimpanzee Tracking permits
These are documents that will allow travelers from all over the world to track the Primates at their own convenience.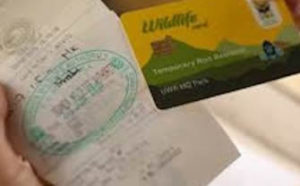 These can be obtained through a valid Tour Operator Agency that will get you your tracking permit before your date of arrival or you can book direct through an organisation responsible for Wildlife Management like the Uganda Wildlife Authority.
 Cost of the Permits
The Gorilla Trekking Permit costs US $600 per person in Uganda, US $400 per person in DR Congo and US $1500 per person in Rwanda.
Gorilla Habituation in Uganda costs US $1500 per person interested and they will stay with the Gorillas for a period of 4 hours.
The Chimpanzee Tracking Permit costs US $150 per person in Uganda with habituation experience being US $220 at Kibale Forest National Park and in Nyungwe Forest National Park, these cost US $100 per person.
The Chimpanzee permit in other sanctuaries costs;
kyambura Gorge- permit costs US $50 per person
Ngamba Island- permit cost price half day trip US $168 per person
Kalinzu Forest- permit costs US $40 per person
Budongo Forest (Kaniyo Pabidi)- permit costs US $80 per person
Gorilla Trekking Destinations in East Africa
Gorilla Trekking is the most prominent Safari activity that brings travelers from all over the world to enjoy watching and adventuring the rare species of Mountain Gorillas, Eastern Lowland Gorillas in their natural vegetation habitats.
This occurs in Bwindi Forest National park, Mgahinga National Park, Virunga National park, Volcanoes National park and Kahuzi Biega National Park.
Bwindi Forest National Park
In Uganda Gorilla Trekking is carried out in Bwindi Forest National Park and it is the most prominent safari activity adventured. Transferring from Kampala to Bwindi Forest will take you a distance of about 540 km.
The Park has 14 habituated Gorilla groups that are distributed in four various sectors i.e Buhoma with the Mubare, Rushegura, Habinyanja Gorilla groups, Ruhija with Bitukura, Oruzogo, Kyaguliro groups, Rushaga with Nshongi, Mishaya, Kahngye, Busingye, Bweza groups and Nkuringo sector with the Nkuringo Gorilla group.
Mgahinga Gorilla National Park
Just like Bwindi, Gorilla trekking is also the prominent activity that takes all travelers to the beautiful Mgahinga Gorilla National Park which is situated in the South Western part of Uganda along the border of Rwanda and Congo about 14 km from Kisoro.
The park occupies an area of about 33 km2 at an altitude of 2227 meters-4127 meters.
The Ntebeko gate is located just 15 minutes off the park. There is one Gorilla group that is habituated here and can be tracked and it is called the Nyakagezi Gorilla group which comprises of 9 members i.e 2 silver backs, 3 adult females, 2 juveniles and 2 infants.
Due to their constant relocation to various places, it is necessary to know their current location before tracking them.
You will move with an experienced guide who will give you information about the Gorillas ecology as well as their behavior and characteristics.
Volcanoes National Park
Also referred to as "Parc National de Volcans" by the locals, Volcanoes National Park is suitably located next to the prominent Virunga Mountains which include 8 different old volcanoes that are divided into three countries i.e Rwanda, Uganda and the DR Congo.
Gorilla trekking is the most prominent activity carried out here due to the numbers of tourists that travel from various parts of the world to spot and experience the rare species of Gorillas in their thick forest habitat.
The Gorilla Trekking Permit Costs US $1500.
Virunga National Park
Virunga National Park is suitably located in the vast green DR Congo occupying an area of 790,000 ha that consists of a variety of beautiful habitats which stretch from swamps and steppes to the snowfields of Rwenzori which is at an altitude of more than 5,000 m, and from lava plains to the Savannah along the slopes of the volcanoes.
Numerous fauna inhabits the park and this includes the Mountain Gorillas which are the most prominent and have made Virunga National Park the world's prime safari destinations.
There are also 20,000 hippopotamuses that stay in the rivers as well as various bird species that migrate from Siberia to this park to until winter ends.
It also comprises of numerous active volcanoes as well as marsh lands, low altitude and afro-montane forest belts and exceptional vegetation and permanent glaciers and snow on the majestic Mountain Rwenzori with peaks ending at an elevation of about 5000 m.
In a distance, you will spot the massifs of Rwenzori and the Virunga Mountains as well as the endangered Mountain Gorillas that are always in their thick tropical rainforest vegetation.
Senkwekwe Gorilla Orphanage
Senkwekwe Gorilla Orphanage is the only Gorilla Orphanage in the world and currently, it inhabits four different Gorillas between the ages of 5-14.
There are two different Gorillas that are 9 years old and these were orphaned during the Gorilla killings of 2007 and were found after all their families were killed so the rangers brought them to the orphanage so as to survive.
The other two were also rescued from poachers who had hunted them so as to be sold illegally on the black market.
These had been separated from their parents who got killed while trying to help and protect them.
These include Maisha, Ndakasi, Ndeze and Matabishi. These are fully taken care of through feeding them, treating them in case of illnesses and supporting them throughout their habituation process.
The orphanage is being supported by a number of individuals as well as various organizations around the world to ensure the well being of these endangered species of Mountain Gorillas.
While at the orphanage, visitors can indulge in many different activities like touring the vegetable garden, visiting and transferring to the Congo Hounds, visiting the co operative to support and talk to the wives of the fallen rangers who got killed while trying to protect the Gorillas or doing nature walks around the orphanage.
The Gorillas around Senkwekwe are used to being in the presence of humans and stay here in the orphanage for life while making their own family unit i.e are not taken back into the wild.
So visit the Senkwekwe Gorilla Orphanage to spot the Gorillas interacting with each other an experience that will leave you wanting more encounters with the Gorillas.
Kahuzi Biege National Park
Kahuzi-Biega National Park is a reserved area located close to Bukavu town in the Eastern part of the vast Democratic Republic of the Congo.
The park also lies along the western bank of the magnificent Lake Kivu as well as the border of Rwanda and was founded in 1970.
It was named after two dormant volcanoes i.e Mount Kahuzi and Mount Biega hence being one of the largest National parks in the DR Congo.
It is situated in an area between the Mountainous and lowland terrain hence a haven to all the Eastern Lowland Gorillas (Gorilla beringei graueri) which were formerly threatened to extinction after extreme hunting for bush meat as well as well as poaching.
The park has exceptional beautiful biodiversity of rain forest and fauna-Eastern Lowland Gorillas occupying an area of 6000 km2 west of Bukavu town in the Southern Kivu Province.
An average rainfall of 1,800 mm (71 in) and a maximum temperature of 18 °C (64 °F) as well as minimum is 10.4 °C is received in the park area.
Within the park are two different extinct volcanoes that are beautiful and these include Mount Kahuzi and Mount Biega with numerous fauna i.e the Eastern Lowland Gorillas (graueri) i.e 250 individuals which occupy an area of 2,100m-2,400 m ASL.
These are quite smaller than the Mountain Gorillas and live in groups with a lead dominant silver back who sets the rules on how to carry out daily activities of all the members.