Murchison Falls National Park: Budget Wildlife Safaris Uganda 2023
Murchison Falls National Park is located North West of Uganda, enjoy budget Wildlife Safaris in Uganda. Murchison Falls National Park is the Best safari destination…
Murchison Falls National Park is situated in the north of the Albertine Rift Valley at Buliisa District (west) and Nwoya District (North).
Before, the park was a conservation region that later on became a game reserve in 1926 as said by the legendary Winston Churchill who was a very prominent figure at the time due to his involvement in various activities like hiking, boat cruises, cycling with in the Nile corridor of the falls.
He was later on followed by his predecessor who invested lots of money on a hunting safaris around Uganda.
The park has two parts which are  the Bugungu and Karuma Wildlife reserve areas and covers a area of 3,893km2.
There are approximately 76 species of wildlife animals in the park and these include elephants, leopards, lions, buffaloes, giraffes, crocodiles, hippos, and 450 species of birds.
The park and reserves are operated by the Uganda Wildlife authority while Budongo Forest and the Murchison Falls Conservation area are under the National Forestry Association.
There is tropical climate around the park which is both hot/dry with two rainy seasons per year since the park is situated close to the equator.
How to get to Murchison Falls National Park
When traveling by bus, car you will use the Kampala-Pakwach route or take about 5 hrs from Kampala in about 305 km where as, from Masindi to Paraa you will take about 85km to reach the park.
Alternatively, you can take the Budongo Forest route where you will see the beautiful shores of Lake Albert as well as the rift valley near Butiaba.
You can also get to Paraa through Chobe Gate, Tangi and Karuma Falls due to the location of these gates  near Pakwach that covers an area of about 25km2 towards Paraa then to Wankwar Gate next to Purongo.
You can also travel by air by transferring with a chartered aircraft from Entebbe Airport/Kajjansi air field to Pakuba airfield.
You will take about 19kms to north Paraa and other airfields like Bugungu close to Murchison and Chobe in the East.
Activities at Murchison Falls National Park
Bird Watching
Murchison Falls National Park covers an area of about 4,000 square kms and consists of 451 species of birds i.e Shoebill Stork, Goliath Heron-the largest heron in the world and pairs of elegant Grey Crowned Cranes.
At the banks of River Nile species like the Blue-headed Coucal, Swamp Flycatcher, Squacco Heron, African Jacana, Sandpipers, Denham's Bustard, Abyssinian Ground-Hornbill, Black-billed Barbet, Black-headed Gonolek, Eastern Grey Plantain-eater, Piapiac, Silverbird, Weaver Birds, Pied, Giant, Malachite Kingfishers, Red-throated Bee-eater, White-browed Sparrow Weaver, Speckle-fronted Weaver and African Quail-Finch can be spotted as well as other species like the Albertine Rift endemics, swallow tailed, grey heron, water birds, secretary birds, Marabou stork, widow bird, open billed stork, wood peckers and the shoe bill can be seen while on boat cruise and game drives.
Hiking and Nature Walks
Embark on a trail to the Kaniyo pabidi and Rabongo forests so as to see various birds and primates like the chimpanzees in the forest as well as the vast terrain and vegetation.
After embarking on a beautiful cruise in the afternoon, you can hike to the top of the falls in about 45 minutes via the forest.
While at the top of the falls, you will see the magnificent rapids, white water waves, water birds, rocks, stones etc and these will make your entire trip worthwhile as well as your visit/stay.
If you prefer bird watching and nature, take a simple trail from the Mubako junction towards the northern bank of River Emmy from Paraa in a period of 2hrs.
Game Drives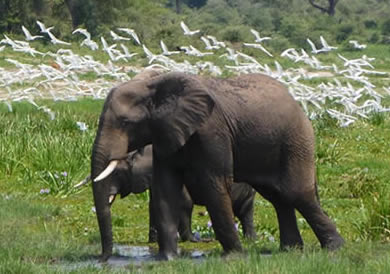 A Game drive involves driving from one point to another following various troops so as to spot wildlife animals stay and leave their habitats i.e bushes.
On a game drive around the Buligi and Nile Valley areas, you will spot and take photographs of  various wildlife animals e.g Elephants, lions in the bushes, kobs, buffalos, warthogs, oribi etc.
Alternatively, you can also locate to the top of the beautiful falls where you will observe them pour vigorously down.
Launch Trips/Boat Cruises
During boat cruising you will spot the magnificent falls in a very summarized distance in approximately 3 hrs from 9:00 am-2:00 pm.
The trips include boat pick ups and drop offs at the lodges as well as the river banks in the south where you will get opportunities to see many different species of birds for example the red throat eaters, crocodiles, wildlife, hippos etc.
Breakfast and lunch are offered while cruising from Paraa to the southern bank which begins in the morning.
Sport Fishing
Sports fishing is such an exciting experience for everyone to take part in at Murchison Falls National Park since it offers opportunities to all visitors that are interested in fishing while on a boat cruise along the banks of River Nile.
Various fish species can be caught using cat fish, small fish as bait to get the big species like the Nile Perch which is situated with in the turbulent fresh waters beneath Murchison Falls.
Nile perch is typically caught annually giving visitors an experience/encounter that will last a lifetime.
If you are visiting and interested in fishing, you should prepare/carry you own fishing equipment as well as a valid permit from the Uganda Wildlife Authority.
Best Time To Visit Murchison Falls National Park
Visit the park during the dry season in the months of December-February and June-September due to increased relocation of wildlife animals from the bushes to the rivers for water.
Additionally, during this season there are few mosquitoes hence visitors don't have to be worried of getting infected with malaria.
Although if you are more interested in bird watching, visit the park during the wet season in the months of March-May and September-December.