Cultural Safari Tours Africa-Cultural Tours in Uganda & Rwanda
Experience the Cultural traditions of Africa in Uganda and Rwanda as you take on a Cultural Adventure Tour in the various Cultural Destinations. You can get involved with the activities as well as donate a certain amount to support the local traditional people and their societies.
Cultural Sites in Uganda, Cultural Tours in Uganda
Kings Palace- Bulange Mengo
The Palace was constructed in 1885 at Lubiri Mengo occupying an area of 4 sq kms and is a residence for the Kabaka (King of Buganda). Traversing the palace is Bulange which is the Buganda parliament building. It is where famous officials in the kingdom get together to examine/study issues of the Kingdom, any developments and well being of the people/ heritage.
Bahai Temple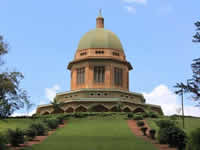 This temple is found at the apex of Kikaya Hill in Kampala Uganda and is the only temple in Africa where people of this faith gather to pray. This includes tremendous structures that have appealing windows that gush beautiful light inside the temple and marked green gardens that cover approximately 30 hectares of land. Due to this, the temple has become an attraction to many worldwide with its brilliant different bird species that fly and relocate from one destination to another.
Kasubi Royal Tombs (Masiiro)
These tombs are very important to the people of Buganda for it is where the Kabaka's/Kings of Buganda are buried. Many people around the world visit this place to learn and get more historical information about the Kingdom and the Kings of buganda. However, this place got affected when it was burnt by unknown people whose intentions were not known. Despite the tough times, it was reconstructed to bring back the memories of Buganda.
Kabaka's Lake
This lake is also referred to as the Kabaka's Lake and is part of the prominent Buganda Kingdom located in a few kilometers from Mengo occupying an area of 5 acres on the outskirts of Kampala. The Lake is man made due to the fact that it was dug and created by people during the reign of Kabaka Mwanga in 1880 following his love for fishing and swimming. Kabaka Mwanga wanted to expand this towards Lake Victoria so as to create an escape route during times of war which did not happen. One can carry out activities like birding and sports fishing while on a cultural safari trip along this lake.
Namugongo Martyr's Shrine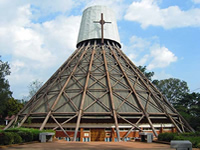 Being a very prominent historical place for the catholic believers,the shrine is recognized and valued due to the memories it brings to the Christians when 30 catholics and protestants got burnt following orders from Kabaka Mwanga on 3rd June 1889.This is a very respected and recognized historical destination in Uganda due to the fact that it brings back memories of the 30 Catholics and Protestants that were burnt to death on 3rd June 1889 with the orders of Kabaka Mwanga. Many tourists travel from all over the globe to come visit this place especially the staunch believers of the catholic and protestants' faith.
Naggalabi (Buddo Coronation Site)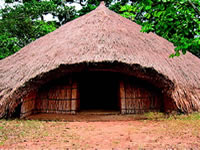 Located at the Naggalabi Buddo hill, Naggalabi Buddo Coronation site is recognized as the cultural and historical heart of the prominent Kingdom of Buganda due to the fact that it is where the Kingdom of Buganda evolved from. Before any reign, the kings are  crowned here hence making it a very appropriate destination for all since one engages in discovering the essential sacred places that mean a lot to the people of Buganda. They will learn more about the footsteps of the past and present Kings.
Rubaga & Namirembe Cathedrals
Namirembe Cathedral was initially established by protestant missionaries in 1903 though despite the fact that struck by lightening that affected it so much. After some time, it was reconstructed in 1919 for prayers and tourism by travelers around the world. Rubaga Cathedral is situated along Rubaga hill overlooking Kampala and was established in 1880 for prayers and gatherings by people that belong to the catholic faith. Transfer to these cathedrals to learn more about them while having tremendous views of Kampala city.
Ndere Center-Kampala
This tremendous cultural center is situated in Kampala surrounded with beautiful tropical green gardens and has a collection of people from different cultures/tribes  around Uganda and these are welcoming for they perform songs and dances to clearly represent their unique customs. At the site you will find a craft shop, an external stage where performances are done, Café, which will make your entire experience very remarkable. The whole Ndere troupe consists of musicians, singers and cultural dancers from different destinations around Uganda.
Katareke Prison Ditch
This is a historical and cultural prison that tells the story of a violent, harsh Buganda King who imprisoned  all his sisters and brothers in the early 1888 and later on killed them for fear that they would dethrone him. This was constructed to remind the Baganda people about the brutal regime of this King.
The Uganda Museum
This was founded in 1908 with an objective of conserving the broad history of Uganda, people and places. There are various natural historical and traditional life collections from different sources in this place and some of these include historical equipment like musical instruments, weapon entomology and archaeology, historical hunting equipment etc.
Amabere ga Nyinamwiru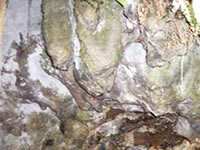 This site is located approximately 10 kms from Fort Portal town found in the western part of Uganda. The caves with "Amabere ga Nyina Mwiru" a lime stone having an elongated story for its existence i.e Long time ago, in the dynasty of the Batembuzi today's Toro and Bunyoro Kingdoms lived a leader called Bukuku who had a beautiful daughter called Nyinamwiru. She was very assertive to an extent that she refused her fathers' plea to get married to the man he had chosen her. This did not please the father hence rebuking her to punishment by cutting off her breasts which are known to have transformed into these vast lime stone rocks with white liquid dripping out as breast milk. While entering you will find beautiful waterfalls then later on, you will take on a candid slippery route with ferns,  trees and rocks along the sides to the caves.
Cultural sites in Rwanda, Rwanda Cultural Tours
Rwanda Genocide Memorials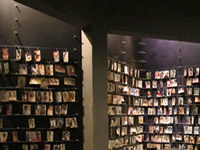 The genocide memorials were constructed to reflect on the disastrous genocide occurrences in which millions of people lost their lives which left Rwanda with very dark memories despite the fact that it is a beautiful country with good terrain, vegetation and huge rolling hills. The sites are situated in various Districts in Rwanda with a few victims that survived the tragic event to narrate the terrible story about it. This is to make you go back to the days when discrimination according to tribe, race and cultural background led to disputes amongst the people thereby resulting into massive deaths of their loved ones. These Genocide memorials include the following;
Bisesero Genocide Memorial Site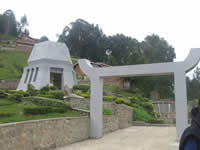 Situated in Karongi District along the slopes of the Kibuye region west of Rwanda, this is the most famous amongst all comprising of nine small piles that show the the nine regions that form Kibuye District. About thirty thousand people are believed to have been assassinated here after being forwarded by the French soldiers. The Tutsis had rebelled and defied the massive slaughter at the time  but since they lacked strong weapons and army tactics they were killed by the caustic Hutus. Visit this site to get a clear picture of what exactly happened due to the evidence presented like the clothes of the deceased along with their skulls. Today, the site is named the Hill of Resistance after the brevity the Bisesero people displayed at this time to their rivals.
Murambi Genocide Memorial Site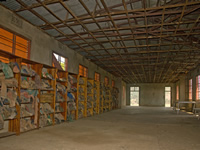 At this memorial site about twenty seven thousand people were killed at this school which led to relocation of a big number of people to other secure places. Due to the growth of the tourism industry the school has been renovated into a demonstration to give a clear picture of what really happened at the time with huge burial grounds that have corpses of the deceased and these were preserved for tourism and memories.
 Gisozi Memorial site
Located in Gasabo district over looking Kigali city, the site is recognized for being with a large number of Tutsi causalities that were killed by the Hutus though in 2000 all were buried in the same place and in 2004 this site was acknowledged as a point for tourism with approximately three thousand people that rest in the burial grounds. It includes a photo gallery, library, display house and a cemetery.
Gisenyi Memorial site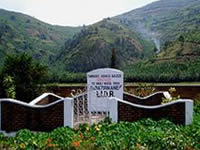 This site is located in Gisenyi peripheries and comprises of burial grounds with twelve thousand corpses of people that were murdered in 1994 during the genocide. It is known to be the very first memorial site to be acknowledged with the help of Ibuka and the ministry of the youth, sports and culture too. The massive bodies that were buried here were attained from Nyundo and Corniche along with the burial ground of Madame Carr an American that managed the Orphanage of Imbabazi.
Nyamata memorial site
Located 35 kilometers off Kigali city in Bugesera District, Nyamata was a church before and during the war. Approximately 2500 people ran to this place for refuge thinking they would be safe form the killers despite the fact that they were wrong for they were murdered mercilessly. The killers used weapons like guns, pangas to kill them so hiding inside the church would not save them. The place was later referred to as the Nyamata memorial site after the church that is still in place since the genocide in 1994.
Nyarubuye Memorial Site
At this venue approximately two thousand people were murdered and buried then later on, it was named a school/monastery. Majority of the Tutsis were killed in big numbers while trying to escape to Tanzania to seek refuge exile. Their bodies were reserved in the monastery for commemoration along with the school that was restructured and today, it accommodates and teaches very many children all over the country.
Nyanza Memorial Site
This was operated and established by the United Nations with a school called ETO which got involved so as to provide security to the victims of the genocide that was occurring at the time. Unfortunately when the war started, these withdrew and relocated back to their country leaving many Tutsis and minor Hutus who ran to this school for refuge where they were transferred from for assassination. Today, a memorable ceremony is carried out every 11th April so as to remember those that were murdered aimlessly.
Ntarama Memorial site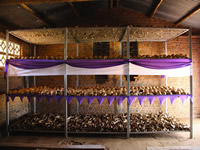 Situated in Bugesera about 30 km away from Kigali town that requires one an hour to drive from Kigali to this site. Five thousand people are believed to have been killed in the church during the war. Just like in Nyamata,  also people here sought refuge in the church thinking it would protect them  form being murdered which was very untrue because many were killed in big numbers including women and children.To date, the church still exists and was not renovated so as to act as evidence of all that happened then.
Ndaba Rock
Located along Kigali/Gitarama/ Kibuye road and about 12 kms to Karongi District Office then 28 km towards the centre of Kibuye city, the splendid Ndaba waterfall also called "Urutare rwa Ndaba" in karongi District has a very interesting story behind its existence. It is said that long ago, there was a prominent hunter called Ndaba who one day went looking for honey and wild game in the forest as this was his usual routine with his other fellow friends. While on his way, he spotted a rock with a huge  hole in it and this had bees bumbling in and out. This made him proceed further since he was curious to know what was going on. He moved towards the rock, he reached the rock and saw honey leaking from the combs then he shouted to his friends informing them of what he had seen/ discovered. Before they arrived, he descended down into the hole and ate honey using his hands.  The honey was too much to an extent that the bees did not bother him. After some time, his friends arrived and dropped him their pots to be filled too but due to his greed, Ndaba went on stuffing the honey than filling the pots till evening. When his friends saw that it was getting darker, they angrily asked Ndaba to ascend but this was all in vain for he did not due to the fact that he was so occupied with eating the honey. They decided to leave him behind and go back to their homes. Finally after getting satisfied, Ndaba decided to climb up which was impossible since the walls were very slippery hence not getting a way out of the rock that later on led to his death at the bottom close to the honey combs. From that day, the rock is known as Ndaba Rock.
Iby'iwacu cultural village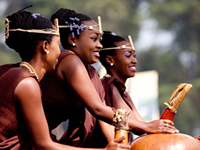 Iby'iwacu cultural village is situated in Kinigi Nyabigoma cell near Parc National des Volcanoes which is a candid village that represents the true taste of Rwanda's culture and only requires one only 20 minutes to reach this destination from the District of Musanze. In the local language Iby'Iwacu means a master piece of our home hence the village presents the exact treasure behind the evolution of the Rwanda nation. The village exposes how the people of Rwanda i.e the Tutsis, Hutus and Batwa interact and get together despite their differences in terms of traditions, values  and cultural back grounds. The village's main objective is to ensure that the community acquires the necessary needs and requirements as well as show how tourism could benefit the community due to the fact that projects were begun amongst the people of the community hence improving their standards of living and increasing the number of tourists that visit to experience the culture of the Rwandese .
Utubindi twa Rubona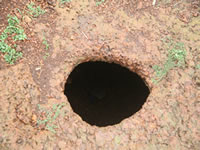 Situated approximately 4 km off the main road of Kayonza-Nyagatare  found in Tubindi Village, Rubona Cell, Kiziguro Sector, Gatsibo District, Utubindi twa Rubona found in Rubona Primary School is a clump of seven troughs in form of pots of clay without rims and necks in a granite rock which are believed to have been dug by King Ruganzu II Ndoli when he was coming from Karagwe east of Tanzania. After arrival from the prolonged journey, they were so thirsty and could not get any drop of water from any natural water body so he decided to use his mystical spear to dig these pits that were filled with water to the people. Around the pits there is believed to be foot prints and a bow mark that belonged to King Ruganzu.
Urutare rwa Ngarama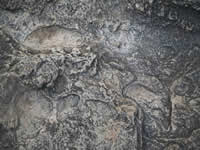 This site is located in the Ngarama Sector, Gatsibo District about 20 km from a place known as "Mu byapa bya Ngarama" found along the main road of Kigali-Nyagatare. In the Urukiga local language it is called the "Ibare rya Ngarama, ebare" a majestic rock occupying an area of approximately three hectares having attributes to a historical figure and some of these are the foot prints of King "Ruganzu Ndoli". There is a point when hit using metal/stone it makes an echo that makes you appreciate his knowledge and skills. Some people say Ngarama was a hero due to the fact that he killed "Saruhara" a very strong vulture that had destroyed the area and had incubated from "Nkomokomo".
Ryamurari
Being one of the eminent archaeological sites in the great Lakes of Africa, Ryamurari is situated on the top of a hill named Mukama/ "Mu Bitabo bya Gahaya, igitabo" which means a clay curved form that was built before entering a traditional hut and "Bitabo bya Gahaya" meaning a place that belongs to a mighty person named "Gahaya" with Ryamurari meaning there was a great person named Murari who inhabited the site. The area comprises of Rwanda, Burundi, Nkole and Ndorwa with Mukama meaning God/Chief/King elaborating that it belonged to a King or Chief. The site enhances both the archaeology and oral traditions about Rwanda due to the fact as stated by (Van Noten 1982, Tshihiluka 1983) that its earth work structures served as paddocks where as the size and bearing of labor needed to achieve this work with reliability of vast cattle carcass show that there is someone who knew how to graze cattle and this person taught others on how to do the same.
Mimuri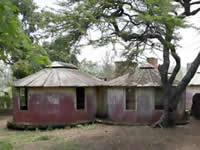 Situated close to Mimuri local market in Rebero Village, Rugari Cell, Mimuri Sector, Nyagatare District with a bunch including five houses i.e three round ones and two in polygon form constructed with metallic sheets by King Mutara III Rudahigwa during the early 1950s who enjoyed hunting especially in Umutara which was a savannah woodland and hunting dominion. It was a Rwandan custom for the Kings to ponder around their Kingdoms, visiting other chiefs and lay people. The main objective for the construction of the houses was to make them hunting sites  and centers of interaction with people and native chiefs hence showing his desire to enhance growth and contemporary apprehension due to the textile applied and the  structural design with chimneys inclusive for enhancing warmth to the people in the evenings.
Presidential Palace Museum
This is situated approximately 2 km from Kigali International Airport and was a habitat to Juvenal Habyarimana and Pasteur Bizimungu in the 1970s till the late 1990s. The Presidential Palace Museum is among the latest museums found in Kigali and offers an opportunity to visitors/guests to spot and explore some of the flight wreckages of the FALCON 50 presidential plane that crashed on 6th April 1994 where president Habyarimana died.
Natural History Museum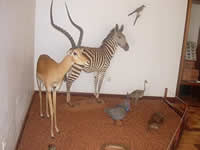 Situated about 10 kms from Kigali International Airport, the museum is devoted to  Dr. Richard Kandt  a German doctor and traveler who got himself involved in the study about the source of the Nile and the history of Rwanda in 1897.This museum also called  'Kandt House' was constructed so as to clarify Rwanda's affluent nature, culture and norms. It also displays a variety of samples and models of likely sensations of Rwanda.
Ethnographic museum (museum of Rwanda)
Found approximately 132 km in the south of Kigali city in an area called Huye, Ethnographic Museum is among the six museums that frame the institution of National Museums in Rwanda. It was constructed in 1987 and today accommodates the best African ethnographic stock pile including septet porches exhibiting ancient historical, archaeological, ethnological and artistic artifacts, supported by illustrations in order for the visitors/guests to have a clear view about Rwanda's history, culture, people and norms.
National Arts Museum Rwesero
This was initially constructed as a fortress for King Mutara III Rudahigwa and is situated in the District of Nyanza approximately 85 km off Kigali City. Unfortunately, King Mutara III Rudahigwa died before inhabiting it and today, the museum parades Rwanda's modern art work  as well as the people hence demonstrating the initial  ingenuity of the people of Rwanda, their culture, Nationwide history and resources. The museum had been built as a Palace for him but he passed away before occupying it.
King's Palace Museum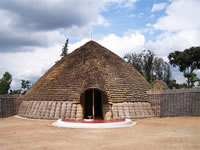 Being a custom palace to King Mutara III Rudahigwa before, the palace museum is situated in Nyanza approximately 88 km southern Kigali and suggests a feature aspect into Rwanda, the people and their customs in regards to their dominion.    The museum is amazing since it is refurbished to its shape and condition with raw fabric since the 19th century. Today, launching of long horned cattle "Inyambo" in Kinyarwanda occurs at this place and this is due to the fact that cattle is so vital to the  Rwandese. One can also go to the near by hill of Mwima and spot the funeral grounds of  King Mutara III and his wife Queen Rosalie Gicanda.
Museum Of Environment
This is situated in the District of Karongi, Western Province close to Lake Kivu and was completely built from November 2010 –April 2013. It was opened for tourism on July 16th 2015 and enhances education/knowledge about the advantages of conserving nature/ weather so as to avoid calamities that would lead to disintegration of both flora and fauna which would be very dangerous for humans.